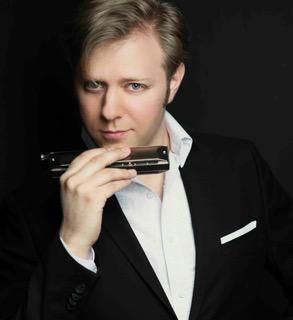 Brief Intro:
For over 16 years, harmonica virtuoso, Joe Powers has performed at concerts, festivals, and milongas around the world from from Paris to Tokyo, collaborating with renowned Tango maestros, orquestas, and Electro-Tango fusion bands like Otros Aires, Tanghetto and Narcotango.

Short Bio:
Harmonica virtuoso, Joe Powers is known for bending and blending genres from jazz to classical, hip-hop to world music, and Argentine Tango. Since gaining a music degree from the University of Oregon he has performed around the world, from Paris to Tokyo and won the Belgian Crystal Harmonica Award/Classical Division in 2008. 
Powers has collaborated with renowned Tango maestros including; Narcotango, Tanghetto, Otros Aires, Nicolás Ledesma, Emilio de la Peña, Oscar de Elía, Horacio Cabarcos, Pablo Motta, the UK's "Tango Siempre", and Japan's "Orquesta Aurora". He has also appeared with groups/artists as diverse as Pink Martini, British pop icon Jamie Cullum, Canadian Boogie-Woogie pianist, Michael Kaeshammer, Sony jazz guitarist Yosuke Onuma, French blues legend J.J. Milteau, and the Ichikawa Symphony Orchestra in Japan. 
In 2012 his Tango quintet was featured with sold-out performances at one of North America's top Classical music series, the Oregon Bach Festival, sharing the bill with super star violinist, Joshua Bell. In 2013 he guest starred with the Vancouver Symphony orchestra kicking off their 35th season with double performances of the Gordon Jacob Harmonica Suite. On his 2016 world tour he gave a sold-out concert with the Barcelona Symphonic Band, and performed the Villa Lobos Harmonica Concerto with the Macedonian Philharmonic Orchestra guest conducted by famous Bulgarian conductor, Emil Tabakov. In 2018 Joe made an 18 country world tour, including performances at the 20th annual International Congress of Argentine Tango (CITA) in Buenos Aires, and in Brazil for the first annual São Paulo Tango Festival. 
His fifth studio album, "Apasionado" was recorded in April, 2015 in Buenos Aires with some of Argentina's top Tango musicians and features six of Joe's original compositions as well as six Tango classics. More information at: www.joepowers.com
20th CITA Festival - Buenos Aires
Tango Chilango Festival - Mexico City
Tangofolie Festival - Lausanne, Switzerland
England International Tango Festival
Tango Mango - South Zeal, UK
Media Luna Tango Festival - Cesena, Italy 
Tango Revolution Festival -  Cesena, Italy 
Mephisto Bal - Paris, France 
Tres Minutos - Toulouse, France 
Tango Nuevo Festival - Bonn, Germany 
Tango Ocho - Stuttgart, Germany 
Filmcasino Milonga - Münich, Germany 
WeiNeo Tango Festival - Vienna, Austria 
London Tango Extraveganza 
Tango Acropolis - Athens, Greece
Tokyo International Tango Festival 
World Tango Festival - Tokyo
Amigo Tango Festival - Tokyo 
Heartlands Tango Festival - Minneapolis 
São Paolo Tango Festival
San Diego Tango Festival
Tango Magic Festival - Seattle 
Vancouver Tango Marathon - Canada 
Passion for Tango Festival - Victoria, Canada
Portland Tango Festival
Valentango Festival - Portland, Oregon 
Buenos Aires Milongas: 
Niño Bien, La Virtua, El Catedrál de Tango, Milonga de Las Morrochas, Club Villa Malcóm.
"One of the finest harmonica players in the world." 
Jamie Cullum, Top selling UK Jazz artist 
"During the past decade, Powers has become one of the world's best diatonic and chromatic harmonica players, conquering the worlds of blues, jazz, classical and tango." 
Rob Cullivan, Portland Tribune 
"The most intriguing AmericanTango maestro of the 21st Century." 
H. Nishimura, Latina Magazine, Japan 
"Great repertoire and musicianship" 
Carlos Franzetti, Latin-Grammy winner and Argentine Composer 
"Joe Powers Tango Trio is class, virtuosity, complete intimacy, total simplicity." 
J.M. Coeffeur, La Nouvelle République 
"Amazingly versatile and deeply musical" 
Michael Hoppe Grammy-nominated Composer 
"Who knew the harmonica could sound so great!" 
Thomas M. Lauderdale, Pink Martini 
"Electric presence and musicality" 
Victoria Racz, Oregon Chamber Players 
"A very talented musician...very soulful." 
Howard Levy – Bela Fleck and the Flecktones, Grammy Winner 
"A pleasure to hear harmonica virtuoso Joe Powers." 
Salvador Brotons - Vancouver Symphony conductor 
"When I had the chance to jam with (Joe) it was one of those magical musical experiences...he's an amazing player!" 
Mark McMIllen -  Bobby Caldwell Band Music Director